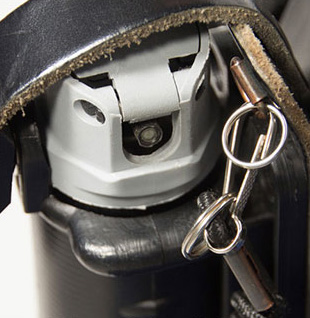 Arizona Defensive Spray Skills Training Course for Security Guards
Course Cost: $29.99
The entire course is online! All of the lessons can be taken at any time of the day or night. The student sets the time to learn without the hassle of restricted classroom hours or limited space. Complete each lesson at your pace and when it is convenient for you. Each lesson is on-demand.
The Defensive Spray lesson is an elective course. The Arizona DPS does not regulate the use and carry of Defensive Sprays while on duty. However, many employers require the completion of a Defensive Spray course before allowing guards to carry Defensive Spray while on duty. Check requirements with your employer.
Upon successful completion of the Defensive Spray coursework and passing the final examination with a score of 100%, students are eligible to receive proof of completion of a course in the carrying and use of tear gas or any other nonlethal chemical agent.
To make the training material easier to use, each lesson is divided into parts of approximately 1-hour blocks. Each part must be completed in order and with a score of 100% on the Knowledge Checks. Students may return to a previously completed module to review any and all material.
In order to pass the entire course, the student must complete the final examination with a score of 100%.
At the end of this course and passing the final exam with a score of 100%, the student will be issued a Certificate of Completion.
The student has 45-days (1.5-months) to complete the training.

Part 1, Use of Force
Back to top
Objectives:

Understand the elements of assault.
Explain the appropriate use of force.
Understand the levels of force.
Know how to deescalate a potential conflict.
Parts 2 and 3, Deployment and Safety
Back to top
Objectives:

Explain a brief history of tear gas and chemical agents.
Comprehend the chemical properties of hand-held defensive sprays.
Differentiate the various different types of hand-held defensive spray canisters and nozzles.
Describe the criminal and civil implications of deploying chemical agents.
Determine appropriate defensive spray decontamination procedures.
Understand the principles of proper deployment of hand-held defensive sprays.
Determine limitations of hand-held defensive sprays.
Explain proper maintenance, storage and disposal methods for of hand-held defensive sprays.
Complete the Defensive Spray Final Exam with a 100% score in accordance with regulations.
Advertisement
---